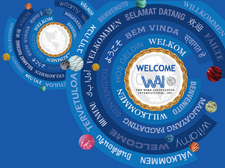 Join WAI | Renew Membership
Meet your peers. Achieve your goals. Join WAI or renew your membership today.
Members of WAI, the leading technical society for the international wire and cable manufacturing industry, rank networking as the #1 reason to join the Association. As a member you can expect to meet like-minded professionals, experts, and pioneers from WAI's diverse community who will help you continue to develop your career.
WAI membership is available to individuals engaged in the manufacture and sale of wire or wire products, mill machinery, equipment, materials or services to the industry.
WAI inspires today's wire and cable leaders and cultivates tomorrow's luminaries. Its network comprises of more than 2,000 professionals in more than 50 countries. 
Individual Membership

Platinum Membership

Chapter Membership

1 Year: $130
2 Year: $240
3 Year: $350

Per person

1 Year: $595
2 Year: $1,190
3 Year: $1,785

For groups of 5 individuals

1 Year: $15
2 Year: $30
3 Year: $45

Add-on to accompany Individual or Platinum

The Association's Reference Guide – a comprehensive industry directory
Free subscription to the Association's
Wire Journal International monthly magazine
Educational videos, webinars, and resources
Discounts on registration to WAI events and purchases from WAI's Store
Be recognized as a member at WAI events 

All individual member benefits, plus…
Enhanced company listing in WAI's Reference Guide industry directory
Your company logo included on the homepage of WAI's website
A free page of editorial content dedicated as our "Platinum Member Spotlight"
Special Platinum Member recognition at WAI trade shows & events
A special "WAI Platinum Member" digital emblem to proudly display where you see fit
Additional savings for joining & renewing memberships as a group

Regional networking & educational events
Eligibility for chapter scholarship programs, where available
Discounted registration for chapter events

Contact WAI to add a Chapter Membership to your existing Association Membership. 

9 chapters to choose from:
US: New England, Southeast, Midwest, Mid-South, Ohio-Valley, Western 
International: Italy, Poland, India

This email address is being protected from spambots. You need JavaScript enabled to view it.

Please note that WAI membership operates on an individual basis. We do not offer company-wide memberships that would cover everyone from your company.
Please contact WAI's membership department if you are looking to sign-up a larger group of employees. A volume discount may be available. 
How to pay membership dues:
Online
Phone
Mail
Pay your membership dues online by credit card anytime through your WAI account. Simply click below to login with your email address and password. 
Pay your membership dues over the phone by credit card. Call during business hours: Monday-Friday 8:30am-4:30pm ECT.   
Pay your membership dues by mailing a check. Be sure to include the member's information, so we can correctly apply your payment. 

Call WAI:

1-203-453-2777

Press "3"
for Membership Department 

Mailing Address: 

Wire Association International
71 Bradley Road, Suite 9 
Attn: Accounting Dept. 
Madison, CT 06443 USA
Questions? Let us know:
This email address is being protected from spambots. You need JavaScript enabled to view it.