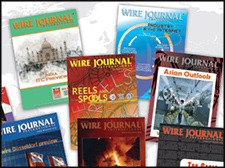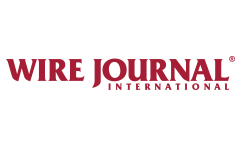 Wire Journal International (WJI) is the official publication of the Wire Association International, Inc. (WAI).
WJI is the leading magazine for the wire and cable industry. Published monthly, WJI is written for executives, engineers, technical and sales professionals, and purchasing agents engaged in the manufacture of ferrous and nonferrous wire and cable; electrical wire and cable; fiber optic cable; and formed and fabricated wire products. Coverage includes management, marketing and manufacturing methods and technical developments related to production of wire and cable products; industry news, trends and events; personnel appointments; and patent updates.
WJI and the Show Program are official publications of Interwire and the WAI Operations Summit & Wire Expo.
---
Editorial sections include the following:
• Industry News
• Patent Report
• Asian Focus
• People
• Fiber Watch and Fastener Update
• WAI and Chapter News
• Feature articles
• Products
• Technical Papers
• Industry event Previews & Wrapups
• Classifieds and more!
---
To learn more about print or digital advertising, see the latest WJI Media Kit, which includes an Editorial Calendar of upcoming feature articles. Please review the Press Release Submission Guidelines to submit editorial material for an upcoming issue. Subscriptions are available in print and digital formats.
View Rate Card View PR Guidelines Subscribe Today!